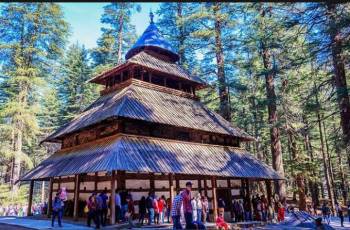 * MANALI UNFOLDS
* Freshen up before going on a sightseeing tour in and around the town.
The excursion includes a visit to Mall Road, The Himalayan
Nyingamapa Gompa (Tibetian Monestry), it was constructed in
the year 1969. The architecture of the monastery represents
theTibetan style of architecture designed with hued frescoes. The
Club House, is an amusement and adventure retreat set up on the
banks of the Manalsu Nala, a branch of the breathtakingBeas
River. Hadimba Devi Temple was built in 1553 CE by Maharaja
Bahadur Singh. It is built around a cave where Devi Hidimba
performed meditation. Hidimba was married to Bhima and gave
birth to their son Ghatotkach. Vashisht Temple, The village of
Vashisht was named after Rishi Vashisht one of the seven sages of
Hindu.
* Once you come back, enjoy the daily rooftop party at Hotel, have
dinner and relax overnight in the Hotel.
Things not to miss:
★★Take an evening stroll at the Mall Road, shop some souvenirs, enjoy the
Local food like Siddhu, Thukpa, Red Rice