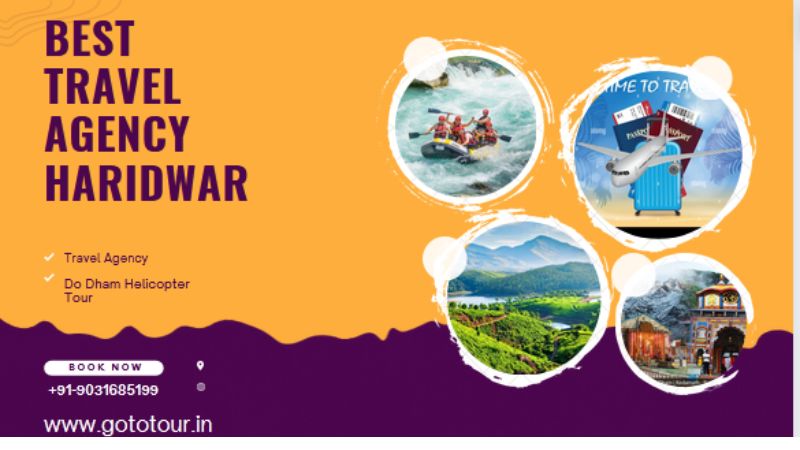 Haridwar also known as the spiritual capital of India is a very popular tourist destination. If you are planning a trip to Hardwar and want to explore the Chardham Yatra or the Kumbh Mela, it is important to take the help of a reliable and experienced travel agency that can make a journey, comfortable and memorable. with a lot of travel agencies in and out of Hardwar, you need to pick the right one. They offer different packages which can be overwhelming to choose from. However, with some information on different types of travel packages that are available, it will be easier for you to pick one and also how to pick the best travel agency Haridwar for your trip.
The different types of packages and a sneak peek into them
Char Dham yatra standard package is a package that covers the four holy shrines in Uttarakhand, namely Gangotri, Yamunotri, Badrinath, and Kedarnath. This package comes with transportation accommodation means and on travel guide.
Do Dham helicopter package is another package for those who were either physically challenged or don't have time to undertake the char Dham yatra. It is a great alternative and comes with a helicopter tour to Badrinath and Kedarnath that stops at scenic places along the way.
12 days Char Dham yatra package is a more prolonged travel package for those who want to spend more time on their yatra and is an excellent option. This package covers all four shrines along with other important places such as Rishikesh, Haridwar, and Devprayag.
Kashi, Haridwar, and Vaishno Devi package is a perfect package for those who want to explore other spiritual destinations in India. This package typically covers a trip to Kashi Varanasi, Haridwar and Vaishno Devi.
The Rishikesh holiday tour package is for adventure lovers. This package is perfect to have adventurous activities with the serene beauty of Rishikesh. It also comes with transportation, accommodation, meals and adventure activities such as white water, rafting, zip, lining and bungee jumping.
These are a few of the packages that are available with repeated travel agencies but will give you a slight idea of which package to choose and which agency will be best for you.
When choosing the best travel agency Haridwar, the most important thing to look for is one that has a good reputation and experience in the market. Check with the travel agency for providing comfortable and budget-friendly accommodation, timely transportation in good condition and guides who are knowledgeable to provide you insights into the places is your visiting.
Also, check with the travel agency for the necessary permits and paperwork required for the trip so that you can have a hassle-free and comfortable trip. Additionally, check if they provide a 24/7 Helpline, in case of any emergency throughout the journey.
Planning your Haridwar trip with a reputable travel agency can be a life-changing experience as you will connect with the universe on a spiritual level along with the excitement and adventure activities available for you in and around Haridwar. Make sure to check all the possible options and facts about the travel agency which will help you have a certain trip without much effort.