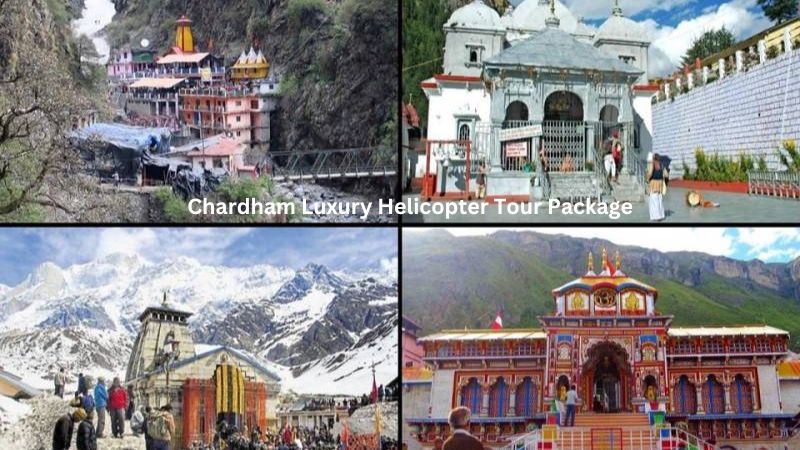 Uttarakhand is called Dev Bhoomi (Land of Gods), as it is the land of great pilgrimages, sacred temples and places. This holy land attracts thousands of pilgrims and spiritual seekers every year to get peace and blessings. The pilgrimage of Char Dhams located in the Garhwal region is considered the most sacred place in North India. These dhams are Badrinath, Kedarnath, Gangotri and Yamunotri which also mark the spiritual source of four sacred rivers. Nestled among the lofty peaks of the Himalayas in Uttarakhand, these holy places are believed to be highly sacred in Hinduism. It is also believed that one should always conclude the yatra of Char Dham in a clockwise direction. Hence, it begins with Yamunotri, proceeds towards Gangotri, then Kedarnath, and finally ends at Badrinath.
Yamunotri: This is the first stopover for the char dham tour. The temple here is dedicated to goddess Yamuna and devotees visit here to seek the blessings of Yamuna mata. Yamunotri is also the source of the river Yamuna and the sight of this origin offers peace and tranquillity to visitors.


Gangotri: This humble abode of goddess Ganga is situated by the bank of river Bhagirathi. The holiest river Ganga is descended from heaven to earth at Gangotri which offers stunning vistas all around.


Kedarnath: This Hindu temple is dedicated to Lord Shiva who is also one of the twelve jyotirlingas of India. The temple is located near Chorabari glacier which is the source of river Mandakini.
Badrinath: It is located on the side of river Alaknanda and the temple here is dedicated to Lord Vishnu. It is one of the important char dhams in India. This last stopover in your char dham yatra where you can offer your prayers at Badrinath Temple.
Each of these religious destinations has its own charm and story. As per the Hindu religion, Chardham Yatra is the ladder that takes pilgrims step by step closer to salvation. These four holy sites are part of the Chota Char Dham of Uttarakhand and are extremely admired by Hindus. Begin your spiritual journey of Chardham Yatra by helicopter this year, and get an unforgettable experience in Uttarakhand.
It is the ultimate desire of every Hindu to visit these pilgrimages at least once in a lifetime. These locations are at high altitudes that require a lot of time and courage to visit in one trip. Chardham Yatra by Helicopter is the most convenient way to reach these holy places. Go through the detailed itinerary that will allow you to book a Chardham Luxury Helicopter Tour package right away.
Helicopter tour packages come as a boon for elderly people, couples travelling with infants, and physically challenged people. The services of Chardham helicopter tour operators make sure that the journey of the pilgrims is hassle-free. It is an amazing attempt by Uttarakhand Tourism to minimize the troubles for devotees across the world.
If you have any health issues and tight schedules, Chardham yatra by helicopter is the best option to choose from. Get ready to pick the best-selling Chardham luxury Helicopter Tour package offered by travel agencies.
Highlights of the tour package
Experience the best helicopter ride and cover the entire pilgrimage circuit.
Admire stunning aerial views from the helicopter that will cover the beauties of the mountainous landscape.
Gain easy access to all Char Dham temples as each Dham is closer to the helipad.
Save a considerable amount of time with comfort and luxury.
You can also get the slip for VIP darshan.
People who are in search of spiritual connection in a short trip will be delighted to choose helicopter services. You will enjoy this incredible journey through the sacred mountains of the Himalayas in Dev Bhoomi. Book your Exclusive Char Dham Luxury Helicopter Tour from anywhere and visit these holy shrines to attain salvation (Moksha).
Best Time to Visit Char Dham
The doors of Char Dham Yatra open in May and remain open till November. The best time to visit is May to June and Mid-August to November keeping the closing dates in mind. Usually, the month of July is avoided due to heavy rains and the chances of landslides. Also, during this period helicopter services might get hampered. The months of October and November are pretty cold, so you have to prepare yourself accordingly. Usually, May and June are considered ideal for travelling, sightseeing, and enjoying the best views of Uttarakhand. It is highly crowded in these two months, so if you want to avoid a rush, choose the months after August.
Conclusion
Contact the travel experts of Go To Tour who will help you curate the Chardham yatra according to your choices. These luxury tour packages are customisable and allow you to change the tour as per your requirements and convenience.